Ucentric Design has a large toolbox that enables us to assess your business, customer, and product needs in relationship to the User Experience:
PAIN POINT INTERVIEW
Series of open-ended questions designed to delve into the problems that your customers have with your service or product.
Your customers are acutely aware of what they don't want. This interview allows us to uncover and explore the areas of your product or service that cause them frustration or confusion.
With this data, you'll be able to pinpoint the areas that require modification. And you align your development schedule based upon priorities set by your customers.
HEURISTIC EVALUATION
Systematic inspection of a user interface for usability. The interface is judged for its compliance with recognized usability principles called heuristics.
Do you suspect that "something is wrong" with your current user interface, but not sure what it is? Or maybe you just want to take user interface to the next level. A Heuristic Evaluation is a quick way to identify potential usability problems.
A heuristic is a usability principle. Where a user interface violates a heuristic, the interface is no longer intuitive. End users can wind up confused, frustrated, or angry. The list of heuristics was first created about 20 years ago, and has been refined over the years to address the growing needs of software.
Ucentric Design will review your software to determine where heuristics have been violated. We will provide a full report of issues and potential implications. Then we will recommend solutions to fix any violations.
CONTEXTUAL INQUIRY
Process of watching people use your product or service in the actual environment.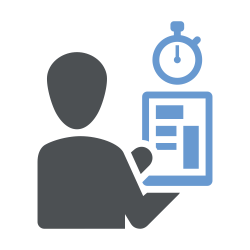 A contextual inquiry is a field study that enables you to understand where and how your end users will use your product. This understanding enables you to optimize a design for your audience's everyday reality.
Ucentric Design goes to their environment and shadows them to understand their space, environmental considerations, workflow, and goals. We interview your users to find out requirements for the ideal product and pain points that plague them with the current solution. This way we uncover new usability requirements and bypass usability issues before we start to create wireframes.
COMPETITIVE ANALYSIS
Method to determine how your product or service performs in relation to your competitors' products and services.
You're not the only one in your field. You need to understand who else is in your space, where their product excels, and where their product falls short.
Ucentric Design reviews the competitors in your field, identifies prevailing trends, and discusses what trends work well and what do not. The report documents industry expectations and how you can exceed the expectations to make an intuitive, compelling product.
FOCUS GROUP
A group of people are asked about their perceptions, opinions, and attitudes towards a product or service. Participants are free to talk with each other during the session.
Find out what your customers think about your branding, identity, or user experience before you make final decisions. During a focus group, we talk with your audience about your ideas to determine what does and does not appeals to them and why.
Ucentric Design can do the following:
Design a session to explore the most critical issues
Facilitate the session
Analyze the data
Create recruiting screeners